>> Friday, August 27, 2010
It's only appropriate on the day we post all the new info about the
Foodie Book Club
to announce a book giveaway, right? We're celebrating a pretty big milestone for us: This week,
we passed the 2,000 subscribers mark
(2,218, to be exact)! I can't even begin to tell you all how thrilled we are that you guys and gals are liking the site. We're changed it quite a bit from the early days back in November 2009 . . . from a Home/DIY blog to one dedicated to Fit Foodies.
We really feel we've hit our stride. Posting content that is near and dear to our hearts is so much fun. And we love all the
emails
, comments, and
tweets
about your own journeys toward healthy lifestyles. Keep 'em coming!
Anyway, here's a big
THANK YOU
. Thank you. Thank you. Thank you. We hope you'll continue to read (never home)maker and enjoy our recipes/fitness tips/etc.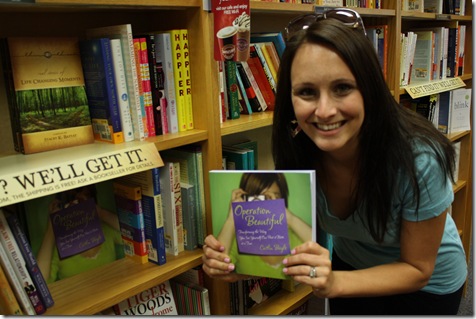 I'm sure most of you have heard about
Caitlin Boyle's
recently released book (
image source
),
Operation Beautiful: Transforming the Way You See Yourself One Post-It Note at a Time
. If not, here are some reviews from the Amazon site:
"Operation Beautiful is an amazing book and movement that greatly helps women take control and start slicing out self-hate, stitching up self-esteem, and finally start healing from all the body drama that's making us sick!"
- Nancy Redd, New York Times bestselling author of Body Drama: Real Girls, Real Bodies, Real Issues, Real Answers

"In a time when so many people have their self-esteem and inner sense of wellness determined by plastic and often unrealistic standards, Operation Beautiful guides the way to loving oneself in a wholesome sense and to being the healthiest, best you can be!"
- Jennifer Ashton, M.D., CBS News Medical Correspondent and author of The Body Scoop for Girls

"Operation Beautiful is tea and sympathy, a kick in the pants, and a pep talk from a trusted friend all in one. Caitlin walks the walk and expertly weaves her own deep-held secrets in with life-changing stories of women from all around the world...should be mandatory reading for women everywhere."
- Stepfanie Romine, SparkPeople.com
Even if you already own a copy of this book -- it'd make a great gift! Entering isn't hard -- and selection will be at random (using
Tara's Random Number Generator
).
Here's the scoop:
THE GOODS:
One (1) copy of Caitlin Boyle's book titled
Operation Beautiful
. Value: Approx $17. Really, though. The stories are priceless.
TO ENTER:
Leave a comment with the word
BEAUTIFUL
somewhere in the mix.
IN ADDITION:
Tell us about one random act of kindness that has impacted your life.
GIVEAWAY CLOSES:
Friday, September 3rd at 9:00PM EST
PRIZE SHIPS:
USA and Canada only.
ALSO:
To win, I need your email address
-- so please provide it (or your blog link so I can find it -- just some way of contacting you) or, unfortunately, you cannot win.
PS:
One entry per email address is allowed. The winners will be selected using Tara's Random Number Generator and announced Tuesday (9/7) morning.
GOOD LUCK!
Like what you just read? You can
subscribe to the feed
of these posts or
follow us on Twitter
or
Facebook
to be the first to know what the (never home)makers are up to. And we'll love you forever!